Color!
We may have cringed at those avocado appliances of the past, but these days appliance manufacturers and brands offer a wide range of colors and finishes. Looking for gray? GE has its Slate Collection and Viking has a line in Graphite Grey. Miele offers Truffle Brown. There are black stainless-steel appliances with a matte finish and glossy white appliances from Whirlpool in their Ice Collection. Then there is BlueStar. Their cobalt blue appliances always stood out but now they offer 750 colors and 10 metal trims to choose from. And, of course, there is just plain old black. Some refrigerators even have black interiors! As our friends at Yale appliance point out, when it comes to color, appliances are a rainbow: read their take on colorful appliances.
French Door & Side Open Ovens
Now we can admit it – range doors have been the bane of the Thanksgiving cook's existence. They take up space when open and then you're leaning over a hot door to check the turkey's progress or baste. Not any longer. Taking a cue from professional baking ovens, new models from Bosch, Viking, American Range, Café, GE and BlueStar offer side opening oven doors or French doors. We love this trend. Expect to see more brands catch on.
Smaller Profile Range Hoods
If you've always wanted a huge professional range from Wolf, La Cornue or AGA, then you'll probably need a powerful hood. Hoods are getting slimmer and smaller while still powerfully sucking up the steam and heat. As more cooktops have ended up on islands, there are hoods with glass canopies that keep sight lines clear. Bosch and Electrolux both offer models with glass canopies. And, of course, there are downdraft systems if a hood isn't on your wish list.
Steam Ovens & Steam with Convection
Steam ovens are another trend that came from the professional kitchen. Restaurants have long been using steam to create mouth-watering dishes. And because most restaurants crank out a steady stream of meals, convection became a key, time-saving method for certain parts of the menu (think baked potatoes). Two-career couples, busy moms and dads, and gourmet devotees have embraced these ovens with gusto!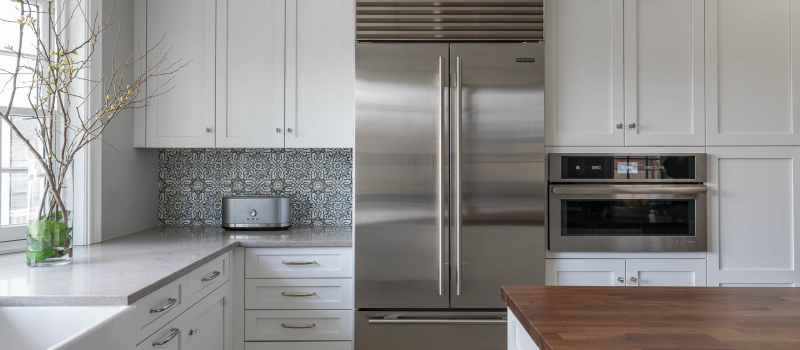 Refrigeration
Most brands offer counter depth refrigerators, but there are new styles to check out, with Sub Zero remaining the luxury brand leader. The newest trend is integrated counter depth which allows for a matching cabinetry cover panel, disguising the refrigerator to blend in with the rest of the cabinetry or walls.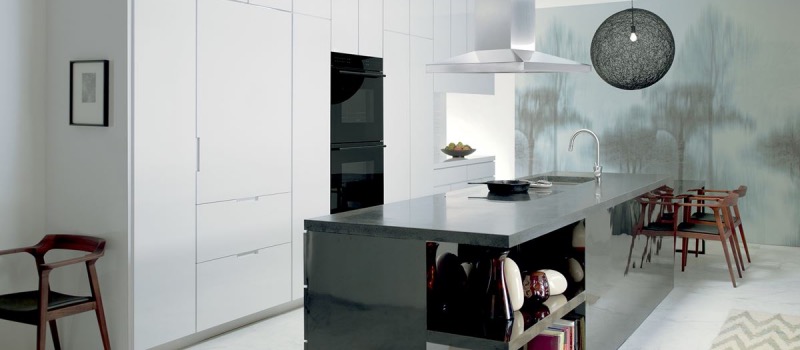 Specialty Design – Retro & Industrial
Among the trends we've seen over the years are appliances that have a strong industrial look, such as glass front refrigerators and restaurant-kitchen style stainless steel ranges and hoods. Recently a kitschy trend emerged for appliances reminiscent of the 1940s-1970s in appearance. One of the companies getting buzz for this style is Big Chill, with their rounded refrigerators. Their Big Chill Retro Series is a definite throwback for anyone looking to recapture the past.
Sleek Dishwashers
Several brands, including Bosch, have removed handles and handrails from their dishwashers. (So where do you hang the wet dishtowel, we ask?) The control panel is on the inside of the machine. A light is cast onto the floor letting you know the cycle status. These sleek dishwashers are also counter depth and easily integrated with cabinetry panels. Dishwashers have become a lot more energy and water usage efficient as well – good news for the environment and the household budget!