Your renovation project has begun and the demolition team will soon arrive. You might be wondering what will happen to your old appliances, fixtures and cabinets? The good news: in many cases you can donate them!
Donating items from a renovation is both environmentally friendly and charitable. Roger Gallagher, President of Gallagher Remodeling Inc., who is a NARI Green Certified Professional says, "it's good for the environment and at the same time it helps families in need to improve their living conditions inexpensively." It's the ultimate in recycling!
We recently arranged for Amy Weber, Recovery and Donations Specialist for EcoBuilding Bargains (part of the Center for EcoTechnology) to pick up cabinets and a sink from our project in Newton. EcoBuilding Bargains will pick up items at no charge and donors receive a tax deduction receipt for the materials.
"It's been a real pleasure working with Gallagher Remodeling to reduce waste from remodeling projects! Recently we helped Roger and his client divert a Kraft Maid kitchen cabinet set from a New England landfill," Ms. Weber said. "Roger's team carefully removed the cabinets in reusable condition, and our truck picked them up from the job site, significantly reducing the amount of material entering the waste stream. This cabinet set was in excellent condition and will be sold at low cost, allowing another family to improve their home at an affordable price! EcoBuilding Bargains makes choosing Donation for Reuse easy for contractors and homeowners by identifying reusable materials prior to demo, arranging free pick-up from the job site, and providing a tax-deductible receipt for the donated materials."
Our client, Elaine Greenstein, was amenable to making a donation because she is an "environmentally-oriented person. Despite that, it never would have occurred to me that my old cabinets could be used again. I was, therefore, so glad that Roger knew they could be recycled. With no additional effort on my part, I could save some trees and even get a tax deduction for the donation."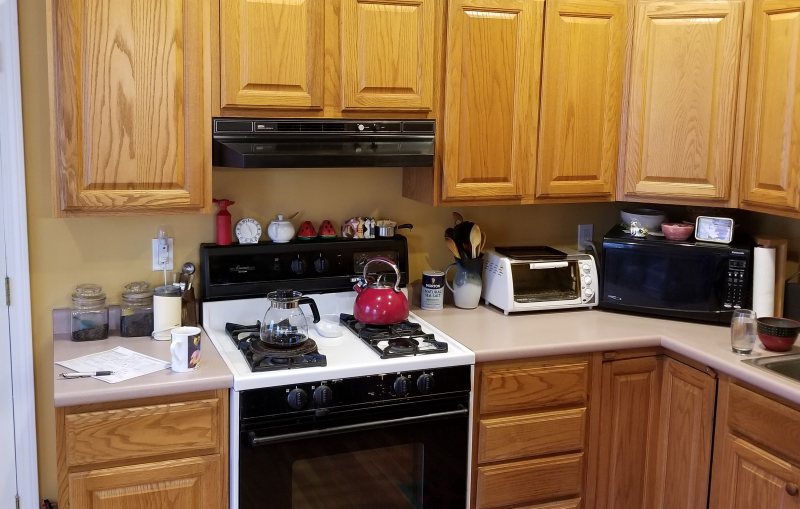 In past years, Gallagher Remodeling, Inc. has donated items to Olde Bostonian in Boston. In addition to the EcoBuilding Bargains organization, Habitat for Humanity has opened many ReStore sites around Massachusetts including the Merrimack Valley location. ReStore accepts donations and offers items for sale, similar to EcoBuilding Bargains. Proceeds from ReStore support the work Habitat for Humanity does around the Commonwealth.
Renovation and building projects create waste and debris. We recycle as much as possible including wood, metal and plastic. The rest we thoughtfully dispose of to minimize the impact on landfills and the communities in which we work.