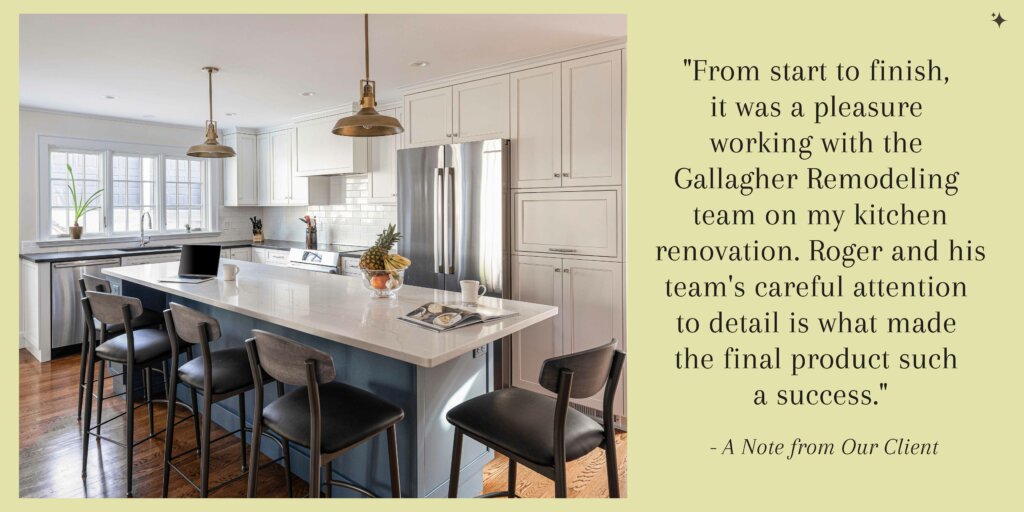 The puck stopped with me.
I have had a lifelong passion for hockey, and I was a goalie when I played throughout my youth and into college and adulthood.
I loved the individual position, as part of the team, with the charge to direct those in front of me to defend and attack. And I loved being the final line of defense, ultimately the only one responsible to defend our net, with a dogged determination and an uncompromising attitude.
Each player on the team had their own role, and they each brought different strengths into the team effort. Everyone was dealing with external factors in their role on the ice, whether they were struggling at home, feeling under the weather, or suffering from injury.
And yet for three periods of hockey, we all came together, with one purpose: to play as a team and do the best we could to achieve our goal on the ice.
Gallagher Remodeling is a team.
Our client cycle begins with a phone call to capture and respond to the service inquiry. Two people follow up with a home visit. The project is budgeted and developed with drawings of existing and proposed conditions and in design development, architects, designers, supervisors and tradespeople all collaborate with the homeowner to find the right solution at the best price point. Together we attack the project in construction with a well-managed and thoughtful plan, designed to defend the client and our staff against the many hazards and perils of a construction project. And at the end, we celebrate the miracle of our jointly accomplished mission.
Along the way, everyone needs support and help. On a team, the players hold each other up, and make each other better than they can be as individuals. And together, a good team can accomplish great things.
And the puck still stops with me.