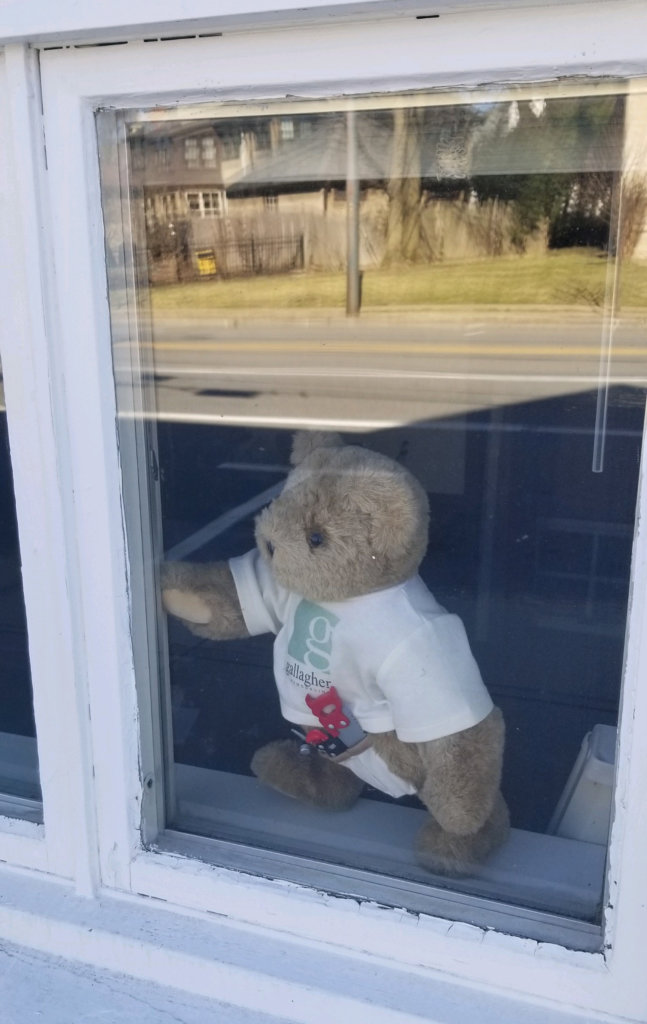 Sometimes it's the little things we do together as a community that can make a difference. That's true even when we're being "socially distant." On March 14 our friends at Belmont Porchfest hosted a Sing-Along inspired by the videos of Italian residents singing out of their doorways and windows to keep their spirits up. Today, we read that Belmont resident Lisa Legere had started a fun activity for Belmont's younger residents: "bear hunting." In other words, searching for stuffed bears in widows about town. Turns out, Gallagher Remodeling has already been participating – our mascot "Gallagher Bear" has been displayed in our window for months. Look for him at 10 Trapelo Rd. He's at the perfect level for "kid viewing."
If you haven't already read about it in the paper or on social media, residents have been asked to display stuffed animals in their windows. Children are "hunting" for them all around town as a family-friendly activity designed to get kids outside (or perhaps riding around in cars) at a time when parents need "something" to occupy the time out of daycare and school. Check out some of the pictures on Wicked Local, Belmont.
Ready to hunt for bears? Here's the link to a Google map with addresses where bears have been spotted.
PS – in case you're not familiar with it, "We're going on a Bear Hunt" is a popular children's story by Michael Rosen and Helen Oxbury. Here's an animated version of the book we found.
Be well.